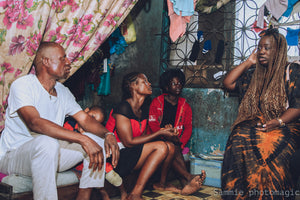 The Uzo family is a part of our Asset-Based Family Development program in Nigeria. They come from an underprivileged area in the city of Lagos.

We hope to raise enough funds to move the family into a new home, afford textbooks so the children can stay enrolled in school, and provide experiences outside of their day-to-day lives, beginning early next year. 
The program for the Uzo Family is in three phases. Phase One of our investment is scheduled to launch in January. We will use your generous donations of $4000 to achieve the following:
Rehabilitation from the slum they currently live by renting a new apartment for the family
Public school enrollment for the school age kids that have dropped out due to lack of funds 
Psychotherapy and social enablement program to tackle the poverty of being while addressing material poverty
Craft by Jade is a nonprofit organization as described in section 501(c)(3) of the IRS code. Our tax identification number is 87-4050006. Adequate records will be maintained and made available to the IRS upon request.
In accordance with IRS regulations, no goods or services were provided to you by Craft by Jade as part of this donation.